Cape Cod Aggregates (CCA) is a family-owned and operated business with six locations that allow us to offer affordable pricing. Based in Hyannis, CCA currently has locations in Bourne, Falmouth, Freetown, New Bedford and Sandwich.
CCA in 2009 started its newest operation in Freetown. During this time it has generated close to $200,000 in tipping fees to the town and $120,000 in property tax revenues, in addition to generous contributions to community groups and town events, such as the July 4th fireworks display.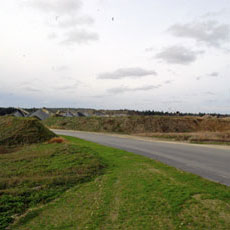 The company has been serving Southeastern Massachusetts since 1957 when brothers Antonio and Paul Lorusso became partners in the aggregates business. Originally, the company was called Hyannis Sand & Gravel, with locations in Falmouth and Hyannis. The Lorusso brothers remained partners for three years before Antonio sold his share to his brother to concentrate on building S.M. Lorusso & Sons, Inc. in Walpole, MA.
In 1981, Antonio's sons, Sam, Tony and Jim, purchased Hyannis Sand & Gravel, and renamed the company, Cape Cod Aggregates Corp. Under their leadership, CCA has grown from a small company of 15 employees to a thriving business with more than 50 employees at the six locations.
Today, Cape Cod Aggregates is the leading sand supplier in eastern Massachusetts. Our products are used at every stage of the construction process, from start to finish. CCA is committed to providing its customers with the best quality and most economical products possible.
CCA also prides itself on being a caring community partner, and values its relationships with all communities it serves. CCA is committed to cooperating in every respect with town officials, neighbors and community groups. CCA sponsors youth recreation and community programs, and contributes generously community healthcare organizations.